Why Choose Us?
All About Eyes is an independently owned specialty clinic in the Triad. We strive to provide the highest quality of specialty care in the field of veterinary ophthalmology. We serve most animals – dogs, cats, horses, exotics, birds, and reptiles. Our mission is to preserve vision in our patients if at all possible, and to relieve any pain and suffering if retaining vision is not possible.
services include:
KELLY J SIGLE, DVM
Diplomate American College of Veterinary Ophthalmologists (ACVO)
Dr. Sigle is a board-certified veterinary ophthalmologist who has been practicing in the Triad since 2006. She has also provided locum and consulting services nationwide. Dr. Sigle has been an active member of the Triad community for 16 years.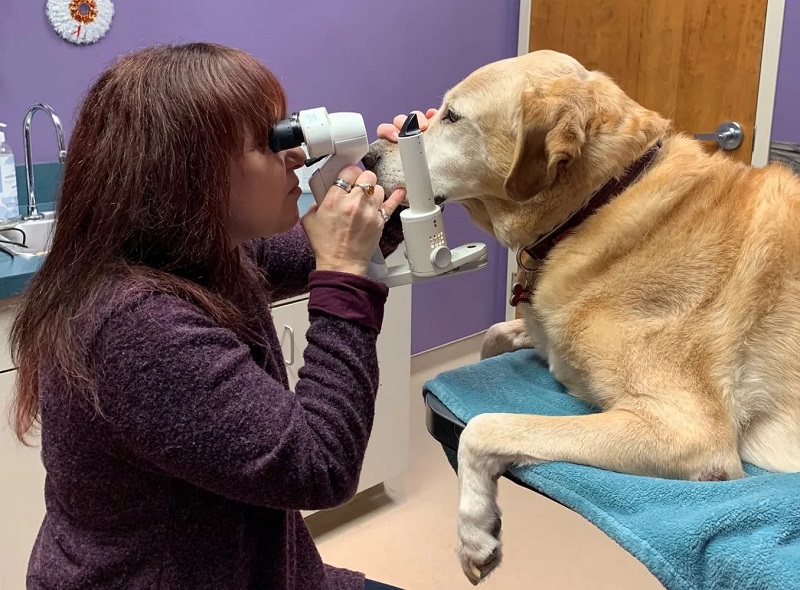 Testimonials
Dr. Sigle and the staff at All About Eyes are wonderful! They gave my dog, Billie, lots of attention and made her feel so comfortable. Dr. Sigle knew exactly what was wrong with Billie's eyes and explained it to me in detail in a way that I could understand.
— S. Wolf
Dr. Sigle has been doing OFA CAER exams for my dogs for years. She is an excellent Ophthalmologist. She is very knowledgeable and skilled and her staff is friendly. It is obvious she cares about me and my dogs! I didn't have to wait weeks to get in.
—Kellie M.
My diabetic dog developed cataracts and glaucoma. Dr. Sigle performed surgery for a rupture and hemorrhage in his eye. He was depressed and in a lot of pain before his surgery but now is getting back to his happy self! I highly recommend Dr. Sigle!
–L. M.
Making an Appointment
It's easy to make an appointment with us. Fill out this form, then schedule a time with our receptionist.
Anyone can make an appointment; it is not necessary to have a referral. We do encourage referrals from veterinarians, so we can integrate our care with your pet's regular vet.
All About Eyes
Veterinary Ophthalmology Clinic
2311 Fleming Road Suite 102
Greensboro, NC 27410
336.522.6780
If your pet is experiencing an emergency please contact Happy Tails Veterinary Emergency Clinic at (336) 288-2688; After Hours Veterinary Emergency Clinic at (336) 851-1990; or Animal Emergency and Trauma Center at (336) 632-0605.